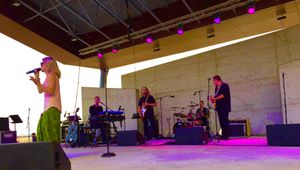 Band For Rent
Here's the scoop...
Our goal is to exceed your expectations and always make your event musical, fun, entertaining and memorable. 
We believe that we have some of the most in demand, skilled, creative musicians that we could find.
We all just love to play and perform.
If you are an artist, musician, singer, comedian, impressionist, impersonator, etc. and should you need a band to 'back you up' - please consider us. We'll learn your show and deliver it to your audiences with only the highest standards!
We are all American Federation of Musicians's (AFM) Members - this helps provide peace of mind when booking the band - as everything is contracted. This protects both you as the purchaser of our services and us as the entertainment hired to make your event fun, memorable and successful.
Some of the tribute artists we have had the pleasure of performing with - as a back up band: Elvis Presley, Neil Diamond, Bob Seger, Garth Brooks, Dolly Parton, Shania Twain, Keith Urban, Rod Stewart, CCR, Tim McGraw, Carrie Underwood, Charlie Daniels Band, Cher, Reba McIntyre, Kenny Chesney and many more....